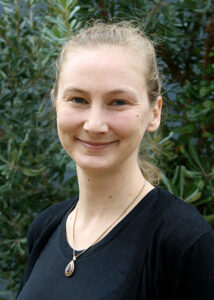 My research is situated at the nexus of environmental history, more-than-human geography, and the broader environmental humanities, and is primarily concerned with contested knowledges within broader cultural framings of authority, expertise, and landscapes. My research has focused on the Murray-Darling Basin, a region rich in environmental contestations. Drawing on archival research as well as interviews, I have concentrated on two key subjects: environmental histories of rivers and wetlands; and scientific approaches to weather and climate from the mid-nineteenth century to the present. I have aimed to develop the role of environmental history in adding temporal depth to understandings of the waterscapes of this region and to bring environmental history into closer dialogue with the environmental humanities in this endeavour.
I am an Associate Professor in Geography and Planning, Macquarie School of Social Sciences at Macquarie University, Sydney. From July 2014 to March 2015 I was a Carson Fellow at the Rachel Carson Center, Ludwig-Maximilians-Universität, Munich.
Current academic Affiliations
Convenor. Australian and Aotearoa New Zealand Environmental History Network.
Executive Committee (Ordinary Member). Australian Historical Association.
Editorial Board. Environmental History.
Editorial Board. International Review of Environmental History.
Advisory Board Member. Association for the Study of Literature, Environment and Culture, Australia and New Zealand.
Member. Centre for Environmental History. Australian National University.
Member. Institute of Australian Geographers.
Key Researcher. Australia Pacific Observatory. Humanities for the Environment.
Past Academic Affiliations
Associate Editor. Environmental Humanities (2012-2015)
Co-editor (with Kate Wright). Living Lexicon for the Environmental Humanities in Environmental Humanities (2014-2020)
Abbreviated CV
I hold a PhD from the School of History, Research School of Social Sciences, The Australian National University, and a BA (Hons.) from The University of Queensland. From March 2010 to March 2013 I undertook a postdoctoral research fellowship in the Australian Centre for Cultural Environmental Research at the University of Wollongong. I joined Macquarie University in April 2013.
Some Honours, Awards, and Academic Distinctions Since 2005
2022-2025
Joint-CI. Australian Research Council Discovery Project. 'Narrative Ecologies of Warragamba Dam'.
CIs: Associate Professor Thom van Dooren (USYD); Dr Emily O'Gorman; Professor Stephen Muecke; Professor Grace Karskens; Professor Matthew Kearnes; Dr Natalie Osborne; Dr Peter Minter
2021-2023
Joint-CI. NSW Environmental Trust grant. 'Enabling Healthier Gomeroi/Kamilaroi Country through On-Country Classrooms'.
This project is a collaboration between Gomeroi/Kamilaroi custodians, academics at Macquarie University and University of Canberra, and government agencies.
2016-2021
Sole-CI. Australian Research Council Discovery Project, 'Remaking Wetlands in the Murray-Darling Basin, 1800 to the Present'.
2019
Visiting Scholar (April), Freshwater Interdisciplinary Research and Engagement, Swansea University.
2018
Visiting Scholar (April-May), Department of History, University of Hawai'i.
Visiting Scholar (March-April), History Program, MIT.
2015-16
Macquarie University Research Development Grant, with Jessica McLean and Fiona Miller, 'Harming/Restoring Waters: Researching Water Cultures Along the Cudgegong and Goulburn Rivers'.
2014-15
Carson Fellowship, Rachel Carson Center, Ludwig-Maximilians-Universität, Munich (July 2014 – April 2015).
2014
Macquarie University New Staff Grant for 'Remaking Wetlands in the Murray-Darling Basin: Cultural Histories of Environmental Change, c.1800-2000'.
2013
Invited participant, "One Concept of Environmental Migration?" Bridging Disciplinary Approaches within the Humanities. Rachel Carson Center, Munich, funded by Cooperation in Science and Technology.
Selected participant, Disasters Wet and Dry: Rivers, Floods and Droughts in World History. Renmin University of China with the Rachel Carson Center, Beijing.
2010
Visiting Scholar (Sept-Dec), History of Consciousness Program, University of California Santa Cruz, USA.
Grant from the Cultural Research Network (with Professor Chris Gibson, UoW) for Cultural Histories and Geographies of Rivers Symposium, held at the UoW.
Program Visitor, School of History, Research School of Social Sciences, College of Arts and Social Sciences, ANU.
2008
Vice Chancellor's Travel Grant, ANU.
Visiting Graduate Scholar, School of Life Sciences, Arizona State University, Phoenix, USA.
2006
Conference Travel Grant, American Society for Environmental History.
2005
Australian Postgraduate Award.